Lenny Goldenberg
Born
1937 in Montreal, Canada
Education
The Vancouver School of Art 1960- 62
Opened own workshop on Bornholm in 1970
Member of
Danish Arts and Crafts Association (DK)
Bornholms Craftsmen (ACAB)
Represented in Industrial Arts Museum, Copenhagen (DK)
Represented in the Danish Ceramic Museum, Grimmerhus, Middelfart (DK)
Represented in The National Gallery of Armenian 
Represented in the following publications
Ceramics Monthly ( Maj 1993, Professional Publishers Inc., Columbus, Ohio, USA)
Ceramics and Print (1994 A.& C. Black, London, GB)
Hot Off The Press (1996 Bellow Publishing Company, London, GB)
Håndbog i Studiokeramik (2001 Krogs Forlag A/S Kolding, Denmark)
Ceramics and Print
(second edition 2002 A.& C. Black, London, GB and University of Pennsylvania Press, Philadelphia, USA)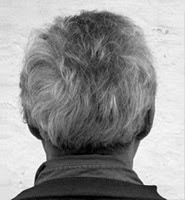 Exhibitions
Charlottenborg
Rundetårn
Odense Kunstmuseum
Rohsska Kunstmuseum
Het Princessehof
Pennsylvania State University
Antioch College Gallery
British Crafts Council

Bornholm
Bornholms Museum
Bornholms Kunstmuseum
Galleri 2RN
Kaffeslottet
Grønbechs Gård
Hjorths Fabrik
Raschs Pakhus

Touring exhibitions
Frankrig
Estland
Letland
Litauen
England
Scotland
USA (ceramic book exhibition)
Grants
Travel grant for a print workshop in Hungary.
Work
I work in stoneware and porcelain; have done a lot of functional ware- mortars, breadboxes, tile tables, kitchen tops, spice shelves etc.
Now I'm concentrating on less useful things where print and foto play a part. I've done clay books - books on ceramics, cook books, short stories, books about other potters. The book idea enabled me to express myself in words and images without having to face the disappointment of rejected manuscripts from a publisher. Now the books are growing, becoming book stands, globe books, buoy books, rocking books, portals, and who knows what...
I work in several techniques as far as text and image go. I have used traditional silkscreening, though very seldom now. I work with printers' letters and with print plates with raised letters, produced photographically and pressed into the wet clay. Now, since I installed a computer some years ago I've been producing text and images in Photo Shop and printing onto decal paper which can be transferred to raw or bisque ware and high-fired.